Quantum Pearl

Quantum Pearl utilises seven high-power energy-efficient RGB LEDS, proximity sensing technology and a powerful microprocessor with custom software.
It has DMX and MIDI capability, enabling networking and sound generation.
Size: 540 x 540 x 80mm, weight 6Kg, power: 24V power adaptor.
PDF Instructions,  two sided A4 folds in 3 (DL) :
General Information (outside)
Control Gestures (inside)
Mimelight
Mimelight has been established as a vehicle for the commercial development of interactive lighting products, the first product being Quantum Pearl.
Previous Prototypes:007: Mimetic Lighting Controller featured in Six Cities Scottish Design Shows
Edinburgh: 3D in Burgh ( 19/5/07 – 26/5/07 )
Interactive Light Sculpture Live Urchin created in collaboration with Blue Marmalade: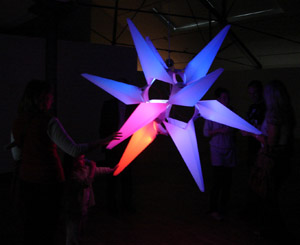 Video: https://www.youtube.com/watch?v=ebGGdThL8a4
Glasgow: Lighthouse ( 17/5/07 – 12/8/07 )
Gesture Controlled Lighting, shades by One Foot Taller: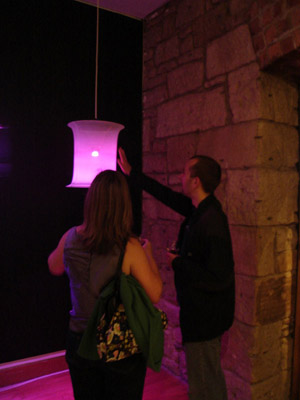 Prototype Controller: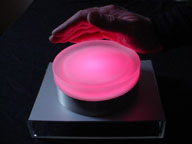 Video: https://www.youtube.com/watch?v=Dng3sL9o3ss
UK Patent GB2420457 – project funded by Ideasmart
Its designer, Richard Brown, has been granted the UK Patent GB2420457 "Lighting apparatus with proximity sensor".and works as a artist, inventor and entrepreneur creating interactive and mimetic experiences using a wide variety of media, including the digital, the analogue and the chemical. His works explore the perception of space, time and energy encompassing ideas from cybernetics, artificial life, interaction design, emergence, complexity and alchemy.
For more details see mimetics.com